From Cleggan Coastguard Station to Ohio
This is a family photo of my ancestors from Connemara taken in 1870, here in Ohio where they settled. My great great Grandmother was Georgianna Freyer, daughter of Peter J. Freyer, Chief Officer of the Coastguard Station at Cleggan 1845-1850, and her husband William Mongan with their children. William, we believe was from the townland of Knockbrack. The photo was taken in 1870, about 21 years after they left Galway.
The first entry found in U.S. records was in the 1850 U.S. Census for the state of New York. Two men were living with William and Georgianna's family – possibly relatives or friends from the area that had also emigrated and were living in the town of DeWitt New York – (near Syracuse). They were Thomas Coyne, aged 25 and Festus King, aged 21. I do not know what became of them after this one entry as William and his family moved from there and show up in St. Mary's Catholic church records in Lancaster, Ohio in 1852 for the baptism of their first born daughter Mary, near to the town of Circleville, Ohio where they eventually settled.
Based on the ages of the children in the picture we guess that it was taken about 1870. The location was in the town of Circleville, Ohio. Based on family stories and extended family members that emigrated after, it would seem that William's family would have been from Cleggan or nearby, since that was where his wife Georgianna was living at the time because her father was stationed in the Coastguard there.
I found that their first born son (also William) was baptized at St. Mary's Catholic Church in Clifden in 1847. Their second son Peter was also born in Ireland and was three weeks old when they left in 1849. William, shown in the picture, died in 1872 of Typhoid during an outbreak of that disease in their town. The photo also only shows five of their ten children. Four other sons including my mother's grandfather were not present and their youngest daughter was not yet born. The oldest sons William and Peter were born in Ireland, and the rest of their children in Ohio.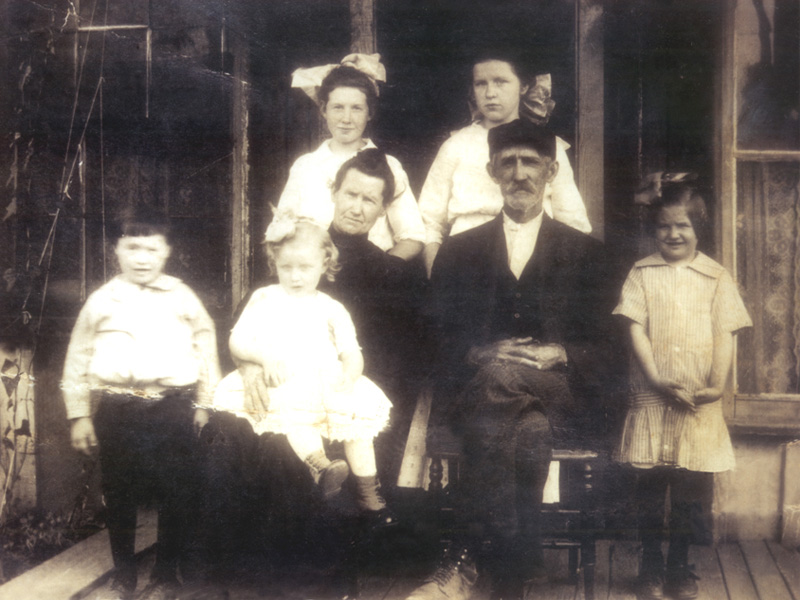 The boy at the left is Timothy, Girl on lap is Georgianna, girl at the right is Alice, back row standing is Margaret and Mary. The parents are Georgianna Freyer and William Mongan.
About 1910, William and Georgianna's son John (my mother's grandfather) visited relatives that settled in the town of Newport, Kentucky just across the river from Cincinnati, Ohio; some 150 miles from the town of Circleville. They visited a Mary Bodkin (William's cousin) who married Thomas Bodkin of Omey Island and her maiden name was Cloherty. Her parents were John Cloherty and Margaret Mongan.
The surname the family ended up with in America became Mogan. Nobody really knows why or how, however we do have it shown as Mongan in the last census in which William was alive. Also, on the visit to the relatives from Ireland, Mary Bodkin referred to my mother's Grandfather as Johnny Mongan.
By Bob Thomas
E-mail: bthoma3@columbus.rr.com