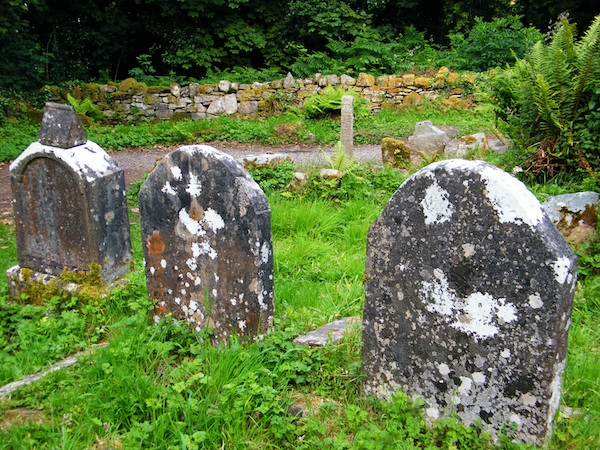 Three O' Sullivan headstones on Inchagoill, Sarah O' Sullivan, nee Joyce
Who was Elisabeth Evans?

When I was a young boy my father would bring my brothers and I to Inchagoill on Lough Corrib, each year in early August, to attend mass and pray that we would not drown during the following year. This was probably wise as we were wild young lads, living within 100 metres of the lake, with access to boats at a time when lifejackets were unknown. On one of these pilgrimages I noticed three headstones in the graveyard with the name O'Sullivan. One in particular, the middle one, attracted my attention. Sarah O'Sullivan died in 1884, aged 37. I asked my father who she was.
He said she was his grandmother, Sarah Joyce, and she had died giving birth to his father, Bernard, and his twin brother, John. On her death, Sarah's husband, also Bernard, was left with their 9 remaining children; the oldest Michael was 15. Bernard was farming 26 acres, half of which was bog, yet he erected a headstone to commemorate his wife at a time when headstones were rare. She was obviously special and although I was curious, my father could tell me no more about her.
Many years later, when the genealogy bug struck me, I found a marriage registration in Galway for Bernard Sullivan and Sarah Joyce. They married in Kilmilkin church, in the Maam valley, in 1866. Sarah's father was Tobias Joyce of Culliagh, near Leenane. Tobias turned out to be the second son of Big Jack Joyce, "King of the Joyces", and one-time proprietor of what is now the Leenane Hotel. He had often been written about by the travel writers in the 1830s.
Young Tobias (Toby) Joyce was mentioned in Henry Inglis' traveller's tale, written in 1834, as having a liaison with the beautiful Ms. Flynn of the Halfway House, near Maam Cross. But "the Joyces and Flynns not being entirely as one", and Toby ended up marrying Elizabeth (Eliza) Evans in Clifden Church on 8th March 1840. Toby and Eliza were my great great grandparents.
In addition to my great grandmother Sarah, Toby and Eliza had ten other children. Patrick, the eldest, married his cousin Mary Joyce and settled in Leagaun. They had four children before Patrick died at a young age. Mary later married Martin Acton.
Another son, James B., became a butcher and farmer in Clifden. He later gained some notoriety when he bought Clifden Demesne in 1913 and was denounced from the pulpit by Canon McAlpine as a land grabber.
A daughter, Elizabeth, married John Joyce of Ungwee, Moyard, and their daughter Maggie "Ungee" had a shop in Clifden for many years. Maggie "Ungee" and her first cousin Maggie "Dick" (daughter of the aforementioned James B. and married to Dick Joyce) were regular visitors to their O'Sullivan cousins on the Doorus peninsula in Cornamona.
Elizabeth Evans daughter of Thomas Evans of Cleggan?
But now to my original question, who was my great great grandmother, Elizabeth Evans. Who were her father and mother? Had she brothers and sisters? What did her father do for a living? I think I may know some of the answers but I am not sure.
I think Elizabeth was the daughter of a Thomas Evans of Cleggan. Thomas was seneschal (a sort of small claims court judge) for the Manor of Claremount, of the Martins of Ballinahinch. He died in 1840 as there is an article mentioning his replacement in The Connaught Journal. He is buried in Ballinakill graveyard where, according to Ian Cantwells memorials of the dead, there is an inscription which includes his wife Margaret nee Toole. The inscription states that he was from Cashel, Co. Tipperary, where incidentally Humanity Dicks second wife Harriet Evans came from. I have failed to find this memorial when I visited Ballinakill but a number of memorials lying close to the old church are almost impossible to decipher.
Thomas Evans was a man of the sea and attained worldwide notoriety as a result of claiming to have seen a mermaid "basking on the rocks at Derrygimla, in Errisbeg". This was reported in the Galway Advertiser in 1819 and later appeared in newspapers around the world.
Three of Thomas Evans's sons, Thomas, James and Patrick, are named in a lease between Thomas Martin and Thomas Evans, drawn up in 1828 for the demesne and lands at Cleggan. Patrick was present at the banquet for Daniel O'Connell after the repeal meeting in Clifden in 1843, according to the Nation newspaper. He married Deborah Sloper in Clifden Roman Catholic church in 1839. He was relieving officer for Renvyle District during the famine. Nothing is known of the other two.
Thomas Evans had a fourth son, John, who was drowned off Cleggan in 1828, along with his young wife, Ms. O'Donnell from Louisburg. The report in the Newry Telegraph said it was as a result of "the smarting of a plank" on his father's pleasure boat.
150 years later four O'Sullivan brothers capsized a wooden lakeboat while bringing sheep to an island on Lough Corrib. The prayers they had so diligently lodged, each year on Inchagoill, were repaid with dividends. Only one ewe, that caught her horn in a rib of the boat, was lost. Someone was watching over us that day.
There is evidence that another Evans woman, a Mary Evans, was married to Redmond Joyce, a businessman and Poor Law Guardian in Clifden. Mary was probably Elizabeth's sister, but, as yet, there is no evidence to prove this. Redmond and Mary's daughter, Jane, married John O'Sullivan of Cornamona, a brother of my great grandfather Bernard.
I have set out below details of the Joyce and Evans families. I am just missing some little links, but I am hopeful that someone reading this article might provide a little snippet of information that could crack the case.
By Barry O'Sullivan bpos@iol.ie
Elizabeth Evans
Birth About 1820 Cleggan, Co.Galway.
Death 1874 Ashmount, Leenane, Co. Galway.
Father
Thomas Evans (1750-1840) Born Cashel, Co.Tipperary. Buried Ballinakill Cemetery.
Mother
Margaret Toole (1799-1839)
Spouse
Theobald Tobias "Toby" Joyce (1816-1894) son of Big Jack Joyce, Leenane, Co.Galway.
Married 1840 Clifden.
Children
Patrick (1843-1891) married Mary Joyce. Lived in Leagaun, Claddaghduff.
Sarah (1846-1884) married Bernard O'Sullivan, Cloonbrone, Cornamona.
Bridget (1849-1922) married Thomas O'Sullivan, Cloonbrone, Cornamona.
James Bernard (1853-1928) married Barbara Keely. Lived in Market St.,Clifden.
Elizabeth (1856-1940) married John Joyce, Ungwee, Letterfrack.
Honor "Nora" (1857-1920) married John Joyce, Lettershanna, Clifden. Lived in Pittsburgh, Pa.
Thomas Evans (1860-1939) married Margaret Waldron. Lived in Leenane & Abbeyknockmoy.
Margaret (1861-)
Catherine "Emily" (1863-1928) married Michael Coyne, Leenane. Lived in Youngstown, Ohio.
Anne (1864-)
Jane (1866-)
Thomas Evans
Birth About 1750 Cashel Co. Tipperary.
Death 1840 Cleggan, Co. Galway.
Spouse
Margaret Toole 1799 – 1839.
Children
• Catherine Evans
• James Evans
• Patrick Evans Married Deborah Sloper Clifden in 1839
• Thomas Evans
• John Evans 1807 – 1828. Married Ms. O'Donnell from Louisburg.
• Mary Evans 1817 – Married Redmond Joyce Clifden.
• Elizabeth Evans 1820 – 1874. Married Tobias Joyce Leenane in 1840