Maurice Gorham 1902 – 1975
Noted broadcaster and author, and member of a Clifden family.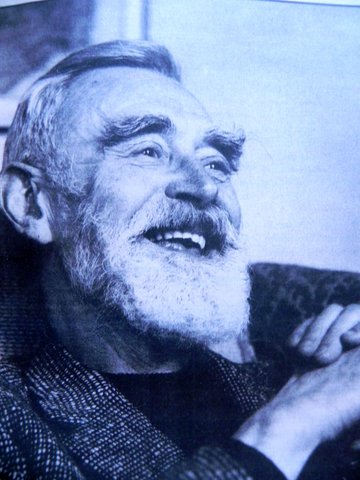 Maurice Gorham was a household name in Ireland in the 1950's … as Director of Broadcasting in Radio Eireann … for people who can remember the period of the radio soap entitled "The Kennedy's of Castleross" and programmes such as "The School Around the Corner", "Take the Floor" and Tommy O Brien's operatic recordings. Maurice's father was a native of Clifden who had studied medicine in Queen's College Galway (now NUIG) in the 1870's. his paternal grandfather Anthony Gorham came from north Connemara and became a successful merchant in Clifden .. One of his premises was on the site of what until recently was the AIB bank on Market Square. His tombstone is just inside the entrance to the old cemetery opposite the Catholic church … the carved inscription still remarkably clear. Anthony Gorham had married twice and his second wife Honoria, was from an old established Clifden family … the Coneyses, many of whom had been medical doctors. (In many of his published books Maurice Gorham gave his full name : Maurice Anthony Coneys Gorham.) It seems that four of Anthony and Honiara's sons qualified as doctors .. Two, joined the British Royal Navy as medical officers, one, known as Pit remained in Clifden and Maurice's father, practiced in London. There are some old Gorham tombstones in Ardbear cemetery on the outskirts of Clifden, and although the name of John James, whose career was in the Royal Navy, is marked on the headstone, it seems he died and was buried abroad, but at his mother's request his name was given along with other deceased family members in that graveyard. (Information given by the late Desmond Morris, Clifden).
Maurice Gorham spent summer holidays as a child in one of the Gorham family properties, today known as Gleann Aoibheann, Beach Road and now the home of Breandan O Scanaill. He wrote "I had grown up as an Irishman in London. My father had been dispensary doctor at Letterfrack, gone to England, and practiced first in Lancashire and then in London, where I was born". he started school in London and was later sent to a Jesuit public school, Stonyhurst in Lancashire. He studied history in Balliol College, Oxford and one of his contemporaries there was the film actor Raymond Massey. He started a journalistic career with a Westminster paper and then the Radio Times newspaper in London in 1926 and progressed to being its editor for eight years. In 1941 he moved into broadcasting with the BBC.
Gorham lived through wartime in London and he was involved with extending BBC services overseas, being based for a time in Berlin with Allied Expeditionary Forces Programme. There he met up with American broadcasters and learnt a lot from their more developed techniques in outdoor broadcasting. He introduced some new developments in outdoor broadcasting to the BBC and also launched the BBC's second programme which he entitled the Light Programme. Maurice Gorham left an account of this period in a book entitled "Sound and Fury … Twenty One Years in the BBC". then Maurice Gorham became involved with re-establishing television service in Britain, which had been closed down since September 1939. He remained there until 1947 when he resigned to a number of books and feature programmes for the BBC. He was instrumental in persuading the aged George Bernard Shaw to a noted televised interview.
As he wrote: "the suggestion of the job with Radio Eireann came out of the blue in July 1952, first from F.H. Boland who was the Irish Ambassador in London and then from Erskin Childers himself …. The offer appealed to me enormously, I would not have wanted a regular job anywhere else … I had always wanted to live and work in Ireland and here at last was my chance. I was in fairly close touch with life in Ireland, I had of course relations still in Connemara (though by now none of my own name). Gorham was a member of the University Club in Dublin while working in London. Gorham started as Director of Broadcasting in Radio Eireann on January 1 1953, and remained there until 1959.
As a gifted writer we are lucky that Gorham was requested to draft an account of the early years of broadcasting in Ireland: "Forty Years of Irish Broadcasting", published in 1967 with a forward from the then Chairman of Radio Eireann, Dr. "Tod" Andrews. It is a witty, readable and accurately researched work covering the main developments in Irish broadcasting history, starting with detailing the conditions in the studios when he started to work in Henry Street, Dublin which he described as "incredibly outdated" the acoustics provided by dusty old Army blankets draped from the ceilings which had been there since 1928. Receptionists would have been considered too expensive so the work was done by a Post Office Attendant … and there was no library on the premises. "Yet in these haphazard surroundings a number of highly talented people succeeded in doing good work. For general knowledge, intelligence and culture in two languages, the staff of Radio Eireann, could compare with any such organization elsewhere, and some of the programmes, done under enormous difficulties, were first rate".
In spite of the makeshift conditions Radio Eireann, had an extraordinarily talented repertory theatre group, the Radio Eireann Players, and the nation tuned into plays broadcast every Sunday evening: among the noted actors were Seamus Forde, Joe Lynch, Marie Kean, Pegg Monahan, Denis Brennan, Daphne Carroll, Ginette Wadell, Thomas Studley, Eamonn Kelly … all familiar names to Irish listeners in the 1950's. on two occasions this group of players won the Prix Italia award for Ireland against European competition. Maurice Gorham made every effort to promote serious programming on the national station, launching the Thomas Davis lectures and providing "promenade" concerts by the Radio Eireann Symphony Orchestra and the Radio Eireann Light Orchestra. Previous attempts to create orchestras in Dublin had not survived because of costs. Without funding supplied by the national radio station there would have been no concert orchestras in Ireland … but some of the Irish politicians objected to expenditure on a minority cultural interest and salaries for mainly foreign musicians! However concerts by the RESO in provincial centres were the first contact many Irish school children had with a real orchestra.
The hours of radio broadcasting were limited in the early 1950's to five and a half hours a day with gaps in programming in the morning and afternoon. The nation was obsessed with religious programming and Radio Eireann chose to transport equipment overland to Italy to relay material on the Holy Year 1950. Gorham detailed all that was expected of the station in spite of its inadequate resources: "It was expected to revive the speaking of Irish; to foster a taste for classical music; to keep people on the farms; to sell good and services of all kinds from sausages to sweep tickets; to provide a living and a career for writers and musicians; to reunite the Irish people at home with those overseas; to end Partition. All this in addition to broadcasting's normal duty to inform, educate and entertain". Commentaries on GAA matches were essential listening and a link-up with Radio Brazzaville in Central Africa transmitted them to Irish missionaries abroad. Philip Greene was the leading sports commentator on "Sports Stadium".
In matters of policy regarding the establishment of a television station in Ireland, Gorham made a significant contribution. Appointed to a Television Committee which submitted reports to the government, Gorham endorsed the concept of public service as opposed to a private, commercial enterprise. For many years the Department of Finance had obstructed requests from the Department of Posts and Telegraph for a television service in Ireland and branded it a "luxury service". At the same time politicians in the Republic of Ireland were embarrassed that television was up and running in Northern Ireland and that the BBC had many viewers in Dublin and along the east coast. National prestige was at stake. Some Irish politicians were attracted by the idea of allowing a purely commercial service (along the lines of "Radio Luxembourg") that would operate independently and not be a burden on Revenue. Naturally the Department of Finance was also keen on the idea of a commercial enterprise. The Television Committee submitted many reports to the Government which generally favoured the public service ethos, and these were always forcefully opposed by the Department of Finance, even as late as 1957.
Leon O Broin, Secretary to the Department of Posts and Telegraph, worked with Gorham on the Television Committee and they considered all the options. Gorham did not favour the American model where newscasts were interrupted by advertising for soda pop or Ford cars. O Broin went to London and discussed ITA's policies with its director Fraser in Britain … how they imported many US programmes etc. Gorham then stated that if the Irish service had to choose between ITA and BBC, as its main prop, the ITV should be the station selected as it was more popular and had less British propaganda than the BBC! Gael-Linn, which had built up expertise in filming news documentaires distributed in Irish cinemas, was also a contender in the running of the proposed new television service. O Broin and Gorham testified to the Television Commission and eventually it was decided to create an independent authority, free from the Department of Posts and Telegraph, to take over broadcasting and radio in Ireland. Gorham was concerned for the survival of radio, while accepting that the introduction of a national television service was both necessary and desirable.
Leon O Broin referred to Gorham as being indispensable to the planning of an Irish television service because of his understanding of international broadcasting agreements and the technicalities involved.
Having had to endure the turmoil of the conflicting interests of politicians and civil servants in the lead up to the establishment of RTE, Maurice Gorham was probably happy to retire and concentrate on writing. He then found time to set up the Writer's Museum in Dublin which he hoped would be a major cultural centre in a city which had produced so many literary giants from Swift to Joyce, and a couple of Nobel prize winners in literature, W.B. Yeats and G.B. Shaw. There is a Gorham room on the first floor of the Dublin Writer's Museum and some works from his personal library were donated to the Museum by Gorham's sister, after his death.
Gorham campaigned for the preservation of Georgian architecture in Dublin and protested when the ESB removed old Georgian house facades to build its new headquarters. Gorham had been enthralled by the wealth of architectural remains still visible in Dublin which had been spared wartime destruction, compared to London where railings had been removed for the war effort and buildings destroyed in the blitz. He loved the atmosphere in the Dublin pubs and admired the courtesy and professionalism of the local bar workers. He published several collections of old photographs taken in Irish locations, entitled "Ireland Yesterday" (1971), "Dublin from Old Photographs" (1972), and "Ireland from Old Photographs" (1971).
While in London Gorham had enjoyed live performances in circuses and fairgrounds and wrote an interesting book along with illustrator Edward Ardizzone entitled "Showmen and Suckers" (1951) … giving quite hilarious descriptions of wrestlers and other performers.
Gorham's writing style is not dated and is still eminently enjoyable. According to RTE librarian, Malachy Moran, Gorham's book "Forty Years of Irish Broadcasting" (1967) is considered by the staff as the station's Bible when the history of Radio Eireann had to be consulted and its records checked. Gorham had an amazing range of cultural interests … music, art, theatre and film, and yet mastered all the technicalities demanded by the new media … radio and television. Ireland owes Maurice Gorham a great debt for fostering all that was best in its cultural life at a pivotal period in history during his short but remarkable career as director of Broadcasting with Radio Eireann.
Catherine Jennings
(Article based on information given by a cousin of Maurice Gorhams' the late Desmond Morris of Ben View House, Bridge St, Clifden. Books by Gorham are to be found in different libraries: "Sound and Fury" was in TCD. The books reproducing old photographs of Ireland are in the National Library and are sometimes available from second hand book dealers. There is a Gorham archive in RTE. Lectures on Gorham have been given by Brian Lynch, formerly of RTE.)
Quotations in this article are from "Forty Years of Irish Broadcasting".
A general study of broadcasting in Ireland in Gorham's era:
Robert Savage: Irish Television, The Political and Social Origins, Cork University Press 1996.