Nicholas Canny, by Gerrit Nuckton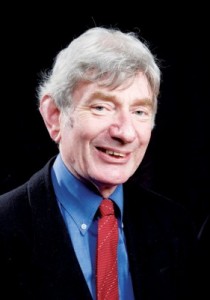 The American writer William Faulkner was once famously quoted as saying, "The past is never dead. It's not even past". This is especially true in Ireland, where the collective Celtic memory is a long one. For Clifden native Dr. Nicholas Canny, a well-respected author and professor emeritus at NUI Galway, bringing the past alive has been a driving force in his life – and a very successful life it has been indeed.
A world-renowned expert in the field of 16th and 17th century Irish history (also referred to as the Early Modern period), Canny has to date written and/or edited over 70 academic papers and reviews, as well as eleven major books. He taught at University College Galway (NUI Galway as it known today) from 1972 until 2009, having become professor in 1979.
He also served as the founding Director of the Moore Institute for Research in the Humanities and Social Studies at NUIG from 2000 to 2011 and was President of the Royal Irish Academy, 2008-11. Besides being Vice President for Research at NUI Galway from 2005 to 2008, since 2011 he has been one of the 22 academics from across Europe serving on the Scientific Council of European Research Council (which distributes approximately €2 billion in grants annually for all disciplines).
Dr. Canny's life work has centred on the history of what was an extremely dark period in the history of this island – from the initial stages of the conquest of Ireland by the armies of Tudor England in the 16th Century, the Flight of the Earls in 1607, to the extreme religious and racial persecution of the revolutionary 1640s and 50s which featured forced emigration of the Irish to Connacht by Cromwellian forces. He has also authored several articles about the experience of the British colonisation of North America (early 1600s until about 1776), as well as a well-received book entitled The Origins of Empire, British Overseas Enterprise to the Close of the Seventeenth Century. This was Vol. 1 in the Oxford University Press series on The History of the British Empire.
Born in Clifden in the Quay House on January 4, 1944, Canny is the son of Cecil Canny and Helen Joyce.
Cecil Canny came from County Mayo, and for a number of years around the time that his son Nicholas was born, taught school in Renvyle at the Eagles Nest School, completing an arduous 8 mile journey each way by bicycle on difficult roads during the height of the restrictive petrol rationing of the Second World War.
Dr. Canny's mother, Helen Joyce, was born to Margaret Connolly and P.F. Joyce of Clifden. Margaret Connolly and her sister Elizabeth were the owners of pubs on Market Street whilst P.F. Joyce, originally from Cashel, worked initially in Singapore as a policeman and later as Assistant Commissioner of Police in the Province of Kedah in Malaya before retiring to Clifden in 1919 after the First World War.
After his family moved to Co. Clare in 1946, Canny would continue to visit Clifden as a child, spending up to two months each summer visiting his grand aunt Elizabeth Connolly. "Clifden at that time had no B&Bs, just guesthouses, and nothing like the major level of tourism as we see it today," he says. "The hotels accommodated English, and a few American tourists, but mostly the town catered to locals or to people originally from the town who were coming back to visit. We spent time at the Clifden and Omey races and some of the boys would play pitch and toss on the sidewalk but only when the guards weren't around!" He also recalls the presence of two orphanages in the town, one run by the Roman Catholic Church and the other by the Church of Ireland. "We didn't see much of the orphans," he says, "they would rarely get a chance to come out of their lodgings and were mostly kept out of sight."
Canny completed his secondary education at St. Flannan's College in Ennis, Co. Clare before attending University College in Galway from which he graduated in 1964 with a B.A. and then a Masters in 1967. His interest in early modern history at UC Galway was sparked there by Professor Gerry Hayes-McCoy.
The Ford Foundation in New York then offered him a fellowship at a prestigious university on the East Coast of the US, the University of Pennsylvania (also known as Penn) in Philadelphia. "America was a big change to someone who had gone through the Irish system," Canny says. "The facilities and libraries in the college were of a very high standard, and the staff were dynamic. " One drawback to big city life in America was the level of crime, as West Philadelphia, where Penn is located, was then a dangerous area. His Ph.D was awarded in 1971. During that period of earning his doctorate, his first paper, on Hugh O'Neill, 2nd Earl of Tyrone, was published (in 1970), and in following years his further examinations of Gaelic Ulster were put in print.
He then began lecturing at NUI Galway in 1971. "Teaching at NUI Galway in the 1970s was quite a challenge, and completely different from what I had experienced in the US," Canny says. "We had up to 250 students in a small room, all on one level so students at the back of the room had a hard time seeing things clearly. The University system was impoverished in those days and that made it harder to teach due to lack of resources." Things did improve over the years, and NUI Galway, as anyone who has attended or visited the University can attest, now has a deserved reputation as a fine centre of higher learning.
His list of honours and writing credits is impressive. His 1976 book entitled The Elizabethan Conquest of Ireland: a Pattern Established, 1565-76, gained international attention, and built on his Ph.D studies in the United States. He is the only person to have won the Irish Historical Research Prize on two occasions, for the aforementioned 1976 work and in 2003 for Making Ireland British: 1580—1650.
In 2003, he was appointed to the Steering Committee of the European Science Foundation and to the Executive Committee of the new Scientific Programme entitled 'National Histories in Europe'.
A frequent flyer, he travels at least annually to the United States, and has travelled there three times since Christmas 2011. He spent time earlier in 2012 on a lecture visit at the premier Catholic college in the US, the University of Notre Dame, famed for academics as well as its collegiate football team, nicknamed the Fighting Irish. He also found time to lecture at New York University and at Northwestern University near Chicago. His current position on the European Research Council brings him to Brussels at least once a month.
Professor Canny is still a popular figure at NUI Galway. During the course of this interview in a lounge in a cafe area, he was greeted warmly by a number of faculty and staff who appreciate his acumen as an administrator as well as a colleague.
Add to that his long, prestigious career as an academic and author of seminal works on Irish history, there is no doubting that this Clifden native has achieved greatness in documenting the past for those who wish to know how the Ireland of the present was made.